There are 20 professors in the Department of CSIE, NDHU, all are fully committed to teaching, researching, cultivating talents, and innovating technologies. Besides the teaching tasks, they are also striven for the scientific research projects.
In the recent years, various large-scaled or flagship research projects were assigned to our professors by the Ministry of Science and Technology (MOST) and Ministry of Education (MOE). There projects were under the fierce competition and strict scrutiny, and yet, Dept of CSIE and the faculty members were still able obtain them.
According to the Taiwan Government Research Information System (Government Research Bulletin https://www.grb.gov.tw/search) , the research fund of the Dept of CSIE assigned from the MOST/MOE in the past three years (2018~2020) was ranked 8th among the computer-science departments of all universities across the country. Furthermore, if we divided the funding amount by the number of teachers, our rank was 7th!
We strongly encourage our students to be involved into departmental research projects or independent projects, to be inspired and stimulated potential, to extend talents into the fullest, and to reach the peak of career together!!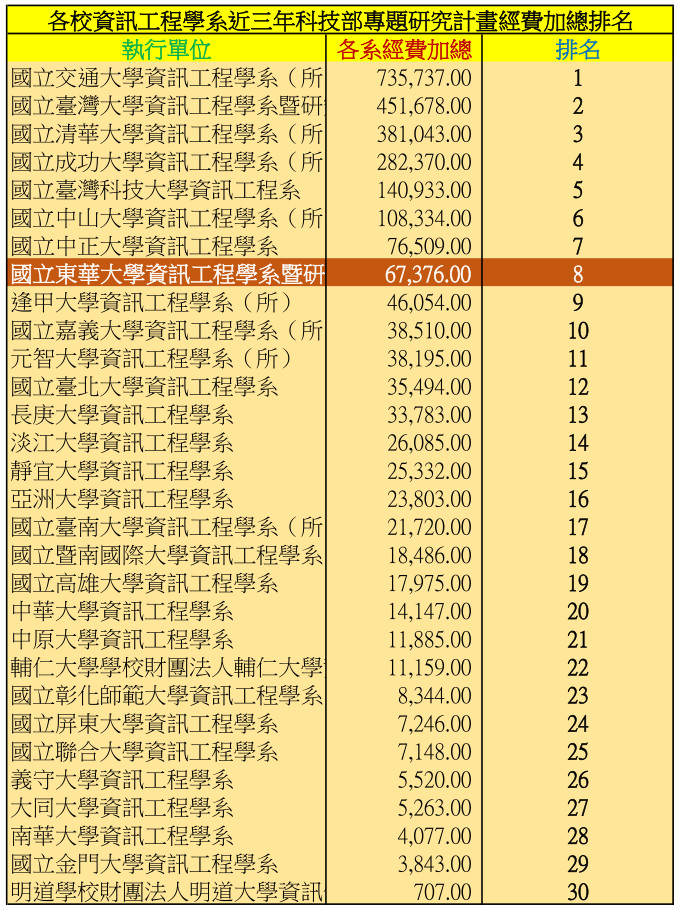 More Detail: 2018~2020 the computer-science departments of all universities across the country
(Visited 210 times, 1 visits today)