Purpose:
Department of Computer Science & Information Engineering has more than 120 students from over 25 foreign countries, holding a variety of splendid cultures and distinguishing conventions.
Since that, Dept of CSIE is preparing to host a series of tours to promote and to encourage interactions between Taiwanese and International students.
Brief Introduction and Objectives:
「2021 CSIE World Tour 」will contain a series of intricate topics and features – by international students to share their traditional cultures, histories, living habit, languages, modern life styles, and points of views. Through the Five sense experiences (visual, auditory, smell, taste and touch-pressure senses), communications, and feedback , local and international students are encouraged to observe and to think about that topic, to respect and to appreciate the differences, and to create a brainstorm of thoughts in dialogue, and to expand and to strengthen students' international perspectives and viewpoints.
Schedule Arrangement:
For every month in the tour series, we will pick a general topic to discussion, such as food, music, language, etc. With the topic, we will hold event with the eastern angle to the western one, to understand the different aspects of the respective regions。
Outcome Evaluation:
The evaluation form will be distributed to participants with opening questions. By opening questions, the participants can freely express their thoughts and discussions.
Award System:
Hours of NDHU's Interdisciplinary Autonomous Learning Certificate (跨域自主學習時數) or Service Learning (服務學習時數) will be distributed as the award for the attendees.
• For those who performed: 5.0 hours of either hours.
• For those who attended: 1.5 hours of Interdisciplinary Autonomous Learning.
• When the evaluation form is filled, another 0.5 hours of Interdisciplinary Autonomous Learning will be given.
Interdisciplinary Autonomous Learning Certification Campus Activities Reservation System:
World Gourmet Taste 3/29 12:00~14:00 "2021 CSIE WORLD TOUR – Food March #1 "
World Gourmet Taste 4/09 12:00~14:00: "2021 CSIE WORLD TOUR – Food March #2 "
World Fashion and Music Show 5/10 12:00~14:00: "2021 CSIE WORLD TOUR – Fashion and Music Show "
Coming Soon
Multilingual June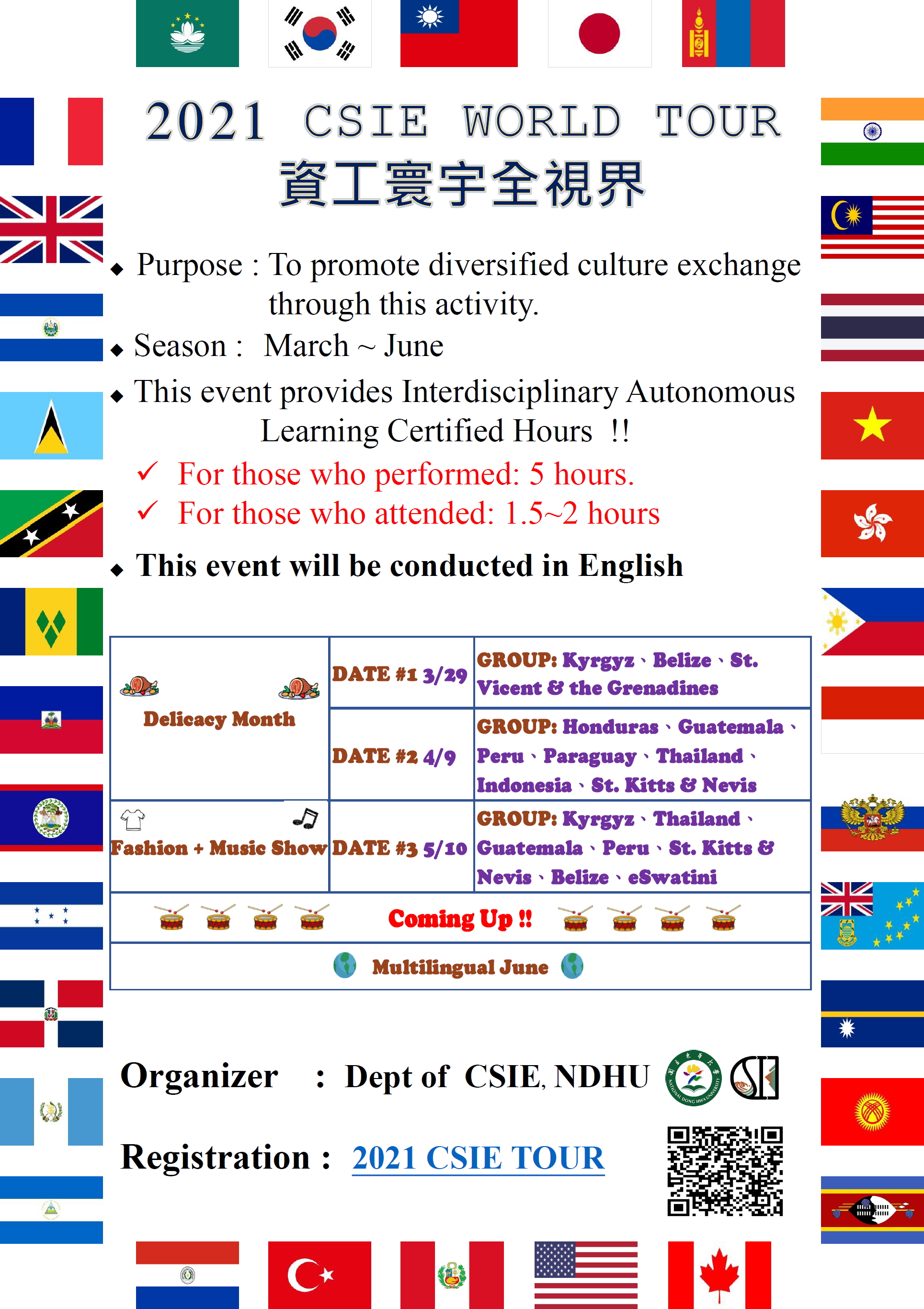 (Visited 283 times, 1 visits today)